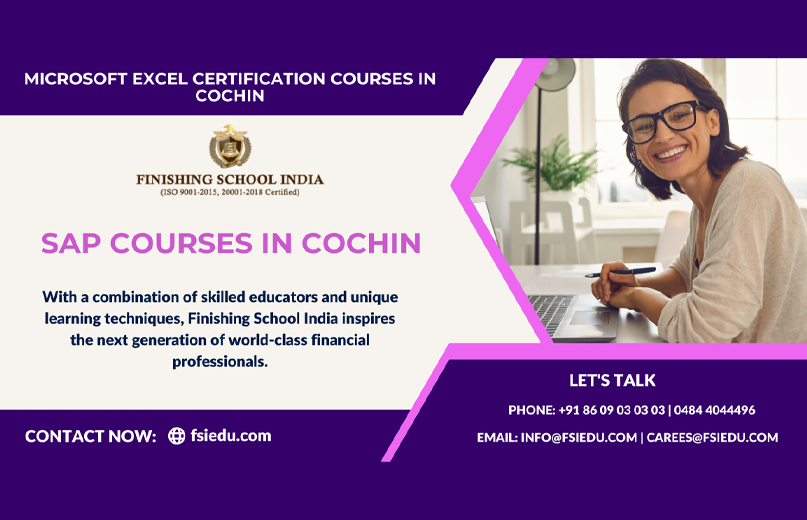 Know About the SAP and Microsoft Training Course
Enterprise resource planning (ERP) and business management tools are available from AP (Systems, Applications, and Products), a software provider, including SAP S/4HANA, SAP Ariba, SAP, and SAP Concur.
People may learn how to utilize SAP software and comprehend business processes by taking several SAP courses in Cochin. You may enroll in these courses through SAP education partners, online educational resources, or SAP's training programs.
Typical SAP courses comprise:
This training covers the knowledge and abilities required to operate with SAP S/4HANA, the company's newest ERP system.
The usage of SAP Ariba, a platform for supply chain management and cloud-based procurement, is covered in this course.
The human resources management system SAP, which is hosted on the cloud, is covered in this course.
This course covers SAP Concur, a tool for managing travel and expenses that is hosted in the cloud.
Business processes enabled by SAP software, such as financial accounting, sales and distribution, production planning, and material management, are all covered in these courses on SAP business processes.
It's crucial to keep in mind that SAP courses frequently concentrate on particular SAP products or functional areas and can ask for some prerequisites or prior expertise. To find out if a course is a suitable fit for your goals and level of expertise, it is always a good idea to do some research about the particular course you are interested in.
A Microsoft certification will assist people in keeping their abilities current. Employers throughout the globe accept the credential. This global recognition increases the likelihood of finding employment. The accreditation will make it possible for users to join organizations that grant access to resources. The tools aid in the job search process.
Microsoft Certification is evidence that a person has the technical know-how to create innovative technological solutions. Microsoft certifications are another way to demonstrate proficiency with on-premises and cloud solutions across many platforms. Individuals can take Microsoft Excel Certification Courses in Cochin to be ready for the tests needed to get certified. The courses have to be attended to increase a person's chances of finding a rewarding job. For full test preparation, think about Microsoft training programs. This will aid applicants in getting ready to ace the test the first time. Many times, applicants are aware of the principles but are perplexed by the assessment format. To prevent testing-related surprises, familiarize yourself with the exam in advance.